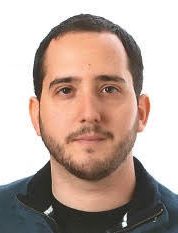 ---
I joined the Laboratory of Cognitive and Computational Neuroscience in 2010 after finishing my Degree in Psychology and my MsC in Neuroscience. I have worked in the field of the early detection of Alzheimer´s Disease, more concretely in the characterization of Subjective Cognitive Decline (SCD). Afterwards I obtained a post-doc grant from the Juan de la Cierva program (Spanish Ministry of Science) in the UAM during 2020. I am currently an Assistant Lecturer at the UCM in the Department of Psychobiology.
Other research interests
This research line is focused on the clinical appliance of electrophysiological biomarkers. These biomarkers are developed by studying, with MEG and EEG, the electromagnetic brain activity of patients with neurological disorders. This line participates in the studies that involve patients with epilepsy, stroke, dementia, autism, or ADHD.
Main publications
2020
2019
Hughes LE, Henson RN, Pereda E, Bruña R, López-Sanz D, Quinn AJ, Woolrich MW, Nobre AC, Rowe JB, Maestú F, . Biomagnetic biomarkers for dementia: A pilot multicentre study with a recommended methodological framework for magnetoencephalography. Alzheimers Dement (Amst). 2019 Dec; 11:450-462. PubMed ID: 31431918.
López-Sanz D, Bruña R, Delgado-Losada ML, López-Higes R, Marcos-Dolado A, Maestú F, Walter S. Electrophysiological brain signatures for the classification of subjective cognitive decline: towards an individual detection in the preclinical stages of dementia. Alzheimers Res Ther. 2019 06; 11(1):49. PubMed ID: 31151467.
2018
2017
2016
López-Sanz D, Bruña R, Garcés P, Camara C, Serrano N, Rodríguez-Rojo IC, Delgado ML, Montenegro M, López-Higes R, Yus M, Maestú F. Alpha band disruption in the AD-continuum starts in the Subjective Cognitive Decline stage: a MEG study. Sci Rep. 2016 11; 6:37685. PubMed ID: 27883082. PDF file.
López ME, Turrero A, Cuesta P, López-Sanz D, Bruña R, Marcos A, Gil P, Yus M, Barabash A, Cabranes JA, Maestú F, Fernández A. Searching for Primary Predictors of Conversion from Mild Cognitive Impairment to Alzheimer's Disease: A Multivariate Follow-Up Study. J Alzheimers Dis. 2016 03; 52(1):133-43. PubMed ID: 27060953. PDF file.
2014
Coullaut-Valera R, Arbaiza I, Bajo R, Arrúe R, López ME, Coullaut-Valera J, Correas A, López-Sanz D, Maestu F, Papo D. Drug polyconsumption is associated with increased synchronization of brain electrical-activity at rest and in a counting task. Int J Neural Syst. 2014 Feb; 24(1):1450005. PubMed ID: 24344693. PDF file.